5 Logo Animation Styles to Include in Your Website by Kris David
Every online visitor loves videos, which is for a reason – they move. Motion is something that draws the attention of every website visitor's eyes. It's the brain that is wired to get appealed to something that's moving. The use of logo design elements is such a super-hot trend in the website designing arena because of this attraction.
If you're a business owner who's looking for design references to show to your website designer, this content is for you. So, let's quickly drill down the way to check the top 5 logo animation styles that you can include in your website.
1. Rotating Logo Animation Styles/Designs
As evident by the name, these designs comprise all or some elements in rotating motion. For instance, take the 500px logo animation. Here, you'll find no element to be static, but all lines rotate in the logo. The font is usually bold and frisky with a pattern formation that evokes fingerprints. Eventually, it converts into a camera's focus sign.
500px Logo Animation 2015 from Design Logo Animations on Vimeo.
You can take examples from video production house logos. For instance, your design can show the spheres rotating, with a later change in the radius to show a video reel, followed by a blinking impression. This is something creative, and you can ask your designer to make something similar. You can ask the designer to make an animation that delivers your business message in ways that wouldn't involve static design.
2. Morphing Logo Animation Styles
Every other designer in the industry has tried these animations. You can ask your designer to blend an elephant into the motion cycle in the 3D design. Take the example of the word 'Brikk,' and imagine how attractive it will be with the transformation into a neon brick. This type of logo design will work perfectly fine, especially if your business deals with luxury items. 
Image Source: Behance
You can also opt for the swirl logo designs to be animated. One of the good examples of swirl design is the one used by Intel. It makes sure the phone and tab slide out of the laptop/PC and backslides into the screen again. Soon, you can see the screen transform into the signature 'Intel.' These swirl logos are highly appealing if your business deals with the IT industry niches.
Your business brand identity doesn't have to be dull. As you can see, the animation of the LinkedIn logo is simple yet amazing. The company tried to incorporate the Disney animation style into the animation, and the results were effective.
3. Hiding and Revealing Logo Animation Styles
Everyone loves the curiosity involved before a huge revelation. These types usually take the initials to cover the centre while revealing your full business name in a simple motion and at times vice versa.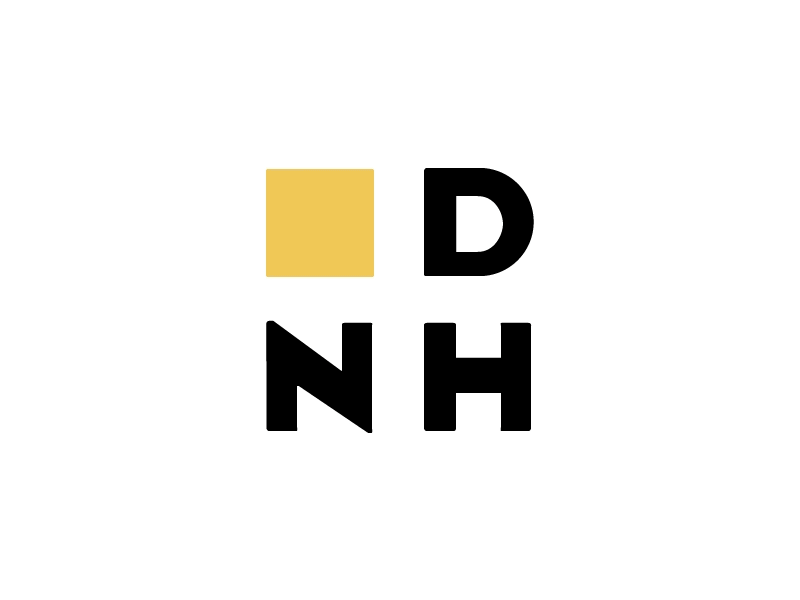 Image Source: Dribble
One of the typical examples of such logos is Design New Haven. Here, NDH are the initials that get swiped or "turned page", separated into the opposite direction to reveal the whole brand name. The technique ensures an easy transition for the logo in between its full name and the shorthand. Try to keep the animation minimal yet engaging. 
4. Expanding Logo Animation Styles
When hiring a designer for your business brand identity, ask them to make the logo appear more breathtaking in a small space. Ask them to leverage the power of animation to expand or shrink the logo to any dimension or scale.
You need to ensure the logo idea has maximum flexibility, such that it is designed and devised to remain adjustable for any shape or size. Its size and shape can vary from medium to moderate for ensuring an amazing design. You can ask the designer to make the logo based on a grid-based framework, well-exhibited sans serif typeface, and a bright contrast colour palette. 
Image source: Fable
In contrast, you can also approach a simple way to expand. Take the example of the 'eat logo' by Fable. They have designed the logo to appear fatter with every bite it is being fed consistently. The font shift from light to regular, semi-bold, and then to bold is something truly unique and seamless.
5. 3D Logo Animation Style
Gif Source: dribble.com
People who love dimensional objects always love the concept of 3D graphics. In today's advanced digitized world, more and more businesses are adopting the 3D and 4D logo animation styles to engage the optical illusion of dimension-seeking eyes. This type of design is what every designer should be best at. You can ask your logo designer to show some of their sample 3D logo animations to get an idea. 
Final Thoughts
Logo animation styles are something that engages and entertains website visitors. It is an advanced way to approach the users and captivate their attention in such a short span. Whether you opt for the 3D animation logo design or the bricklayer one, you need to ensure that it conveys your business motto or story. Most importantly, keep the design precise.
Kris David
A student by day and a wordsmith by night, Kris David works as a freelance blogger. He is currently pursuing a degree in Communications and relying on his freelance gigs to jumpstart his career in journalism.